About Us
We take a pride in being able to contribute to our community—through our services and through our firm local involvement.
There is a difference with Fashion Streaks' custom screen printing and embroidery. Family-owned and operated, Andy & Theresa Briant have owned the Central Coast's largest commercial screen printing business for over 25 years, all the while providing prompt and personalized service to individuals and businesses on the Monterey Peninsula and beyond. Over the years, we have delivered customized printing solutions to many local and national clients by utilizing our state-of-the-art screen printing facility in Sand City. We pride ourselves in being able to contribute not only through our services, but through our firm belief in community involvement. While local at heart, we are global at soul.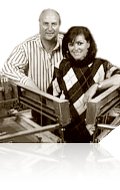 Over 25 Years of Experience
You have an experienced partner in the screen printing business at Fashion Streaks. We have been in the printing and embroidery business on California's Central Coast for over 25 years and we have learned a thing or two. We have had some short deadlines on occasions which has made our lives pretty exciting. We have worked tirelessly to improve our quality control process but above all we've learned that our greatest reward comes from being able to work with you. Here at Fashion Streaks we do business the way you do—we deliver.
Our Clients
No order is too big or too small for us. From bumper stickers to billboards and everything in-between, Fashion Streaks offers custom screen printing and embroidery services to businesses of all sizes. We are a full-service business that can create art for you, do the camera work and of course professionally handle the four-color print process. Samples of our printing can be seen on polo shirts around the lush greens at the Pebble Beach Golf Course or on the shirts of runners in the Big Sur Marathon.
AT&T Pebble Beach National Pro Am
Salinas International Air Show
Monterey Jazz Festival
American Cancer Society
San Francisco Triathlon Escape from Alcatraz
Tri-California Events
Diabetic Youth Foundation
Sea Otter Classic Bicycling Festival
Big Sur International Marathon
San Francisco Symphony
Naval Post Graduate School
United States Coast Guard
United States Marine Corps
State-of-the-Art Facility
Big orders are a snap! We can print 700 t-shirts an hour.
All orders are processed locally on the Monterey Peninsula in our state-of-the-art screen printing facility located here in the coastal town of Sand City. There are no middle men, you deal directly with us. We manage the entire purchasing, preparation and printing process giving us a level of quality, speed and price unmatched by our competitors. Our in-house graphics department will assist with all your projects—from art creation to color separation and everything in-between. Our 4,000 sq.ft. printing facility features automatic multi-color equipment that can handle any size textile order with a printing capacity of 700 shirts an hour. Our embroidery machines can handle single piece runs to complex 200,000 stitch-count patterns. Our support team is always available to assist with your order and because we are local, any questions or issues are resolved right on the spot.
Local at Heart, Global at Soul
Fashion Streaks is the largest screen printer on California's Central Coast
All of us at Fashion Streaks take great pride in being a family-owned and operated local business. Even though we are the largest screen printing business on California's Central Coast, we firmly believe in community involvement and in supporting our local schools, churches and service clubs. Living and working in this amazing part of the world, it is our privilege to be a part of this community. Our employees actively participate in numerous local grassroots projects and non-profit organizations in giving back to our community.
Awards
Monterey County Distinguished Business: Quality in Manufacturing Award
Monterey Peninsula Chamber of Commerce: Small Business of the Year